Report was send successfully
Springbock Grand Slam in South Africa - 1 x Common, 1 x Black, 1 x White & 1 x Copper Springbock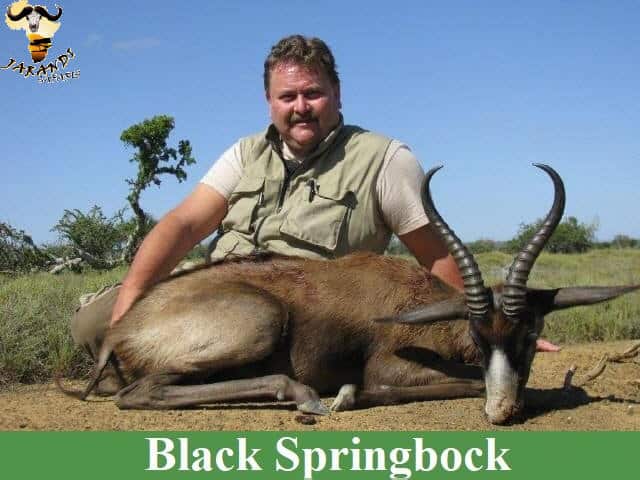 Springbock Grand Slam in South Africa - 1 x Common, 1 x Black, 1 x White & 1 x Copper Springbock
Location: Port Elizabeth, South Africa
Hunting time: 01. May - 31. August
Description:We give 1 x hunter or huntress the opportunity to take part in the Springbock Grand Slam. 1 x Common Springbock, 1 x Black Springbock, 1 x White Springbock & 1 x Copper Springbock. The listed price includes the following: * 1 x Common Springbock, 1 x Black Springbock, ..more offer details
Other users also looked at the following:
Offer description
We give 1 x hunter or huntress the opportunity to take part in the Springbock Grand Slam. 1 x Common Springbock, 1 x Black Springbock, 1 x White Springbock & 1 x Copper Springbock.
The listed price includes the following:
* 1 x Common Springbock, 1 x Black Springbock, 1 x White Springbock & 1 x Copper Springbock
* 5 x hunting days for 1 x guest, 6 x overnight stays incl. meals & alcohol-free
beverages
* Transfer between airport / hotel in Port Elizabeth and the farm
* Professional hunter (PH) / hunting guide and hunting license
* Services of trackers, mounted chasers & skinners
* Territory rides in 4x4 pick-up
* Laundry service
* Rough preparation & transport of the trophies to the local taxidermist in Port Elizabeth
The listed price does not include::
* possible hire weapons and ammunition (different calibres are available)
* additional guests
* additional game
* Extension of the possible stay on the hunting farm
* Completion & shipping of the trophies to the country of destination
* all flights & accommodation costs outside the hunting farm
* the game meat (remains property of the farm)
* Tips
Outstanding amounts of money due to additional shootings or additional guests are payable the evening before departure from the hunting farm. Payments in cash, bank transfer and Paypal (+6% extra charge) are possible. Credit cards are not accepted.
Please check with us in advance if the desired period is available.
Territory information
Territory size: 4.750 Hectare
Type of territory: Partly fenced
Area: Flat, Hilly, Mountains, Grassland, Steppe
Languages: English, German
Hunting methods: High seat, Stalking, Driven hunt (slow), Pack of hounds, Battue
The package deal includes
Included in the price: 4 animal(s)
Travel date
0 chosen hunting day(s)
0 additional travel day(s)
Sum: 0 days with 0 overnights
Your selected travel date
-
31.08.2023
(Departure day)
Daily rate and accommodation
Facilities: Internet, Restaurant, Bar, Safety deposit box, Private bathroom, Laundry service, Full board
More information: > Das Revier dieser Jagd ist eine 4750 ha große Schaffarm 315 km nördlich von Port Elizabeth.



> The venue of this hunt is a 11.700 acres sheep farm 195 miles north of Port Elizabeth.
Guidance:
1 : 1
This offer applies for: 1 hunter(s)
Other costs:
instead of:

€

,-

Total price:
€
,-
Transfer:
Nearest Airport: Port Elizabeth
Distance to airport: 340 km
Pick up service: Yes Fees: -
Nearest railway station: -
Distance to railway station: -
Pick up service: - Fees: -
Trophy treatment:
> Rohpräparation & Transport der Trophäen zum örtlichen Präparator in Port Elizabeth
> Rough preparation & transport of the trophies to the local taxidermist in Port Elizabeth
Missed shot:
0 % of the estimated trophy price
Payment:
Deposit: 50 % of the total price
Final payment: On site
Wounding:
100 % of the estimated trophy price
Gilt als erlegt / Is considered bagged
Cancellation:
Deposits are non-refundable but can be transferred to an other hunting trip / hunter
Included in the offer:
Full board
Hunting licence
Guidance
Transportation in territory
NOT included in the offer:
Alcoholic drinks
Gun rental
Ammunition
Trophy treatment
Taxidermist
Trophy export
Tips
Accommodation before and after hunt
Activities, other than hunting
Other users also looked at the following: