Report was send successfully
Ibex hunt in Alakol, Kazakhstan
This offer is not active at the moment.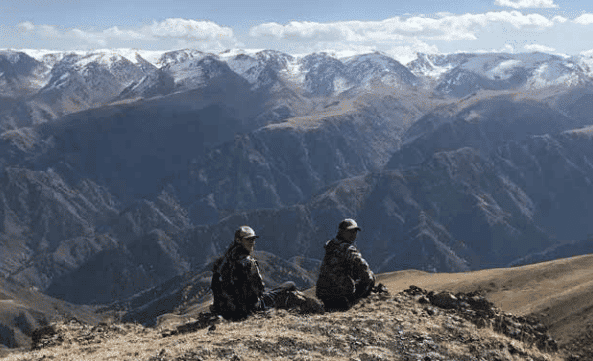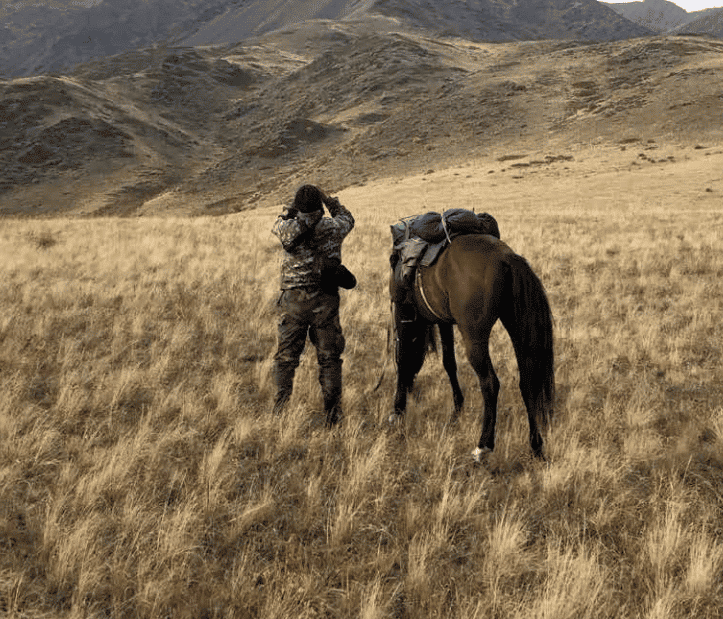 Ibex hunt in Alakol, Kazakhstan
This offer is not active at the moment.
Location: Almaty, Kazakhstan
Hunting time: 01. August - 30. November
Description:The Siberian Ibex: He is truly a king of the mountains. With a stocky physique, short, powerful legs and soft shells, it is ideally suited to life in the high mountains. It is unbelievable what climbing skills this ibex is capable of. You have to have experienced a pack ..more offer details
Other users also looked at the following:
Offer description
The Siberian Ibex:
He is truly a king of the mountains. With a stocky physique, short, powerful legs and soft shells, it is ideally suited to life in the high mountains. It is unbelievable what climbing skills this ibex is capable of. You have to have experienced a pack in a steep face yourself and seen how safely even the fawns can move. You can hardly describe it. Ibexes can weigh up to 130 kg, goats weigh about 30% less. Both sexes have horns, but the female game only has short, barely curved tubes.
The color of the blanket changes from dark brown in summer to pale gray in winter. But there are also regional differences. The horns of the Siberian ibex are impressive. The ibex is fully grown at the age of 7 to 8 and can be hunted from this age. However, unlike in our native cultural areas, classic conservation measures are not possible in these inhospitable mountainous regions. From a tube length of 110 cm one speaks of a good ibex and when the length approaches the 125 cm mark, one can confidently speak of a capital ibex.
But Kazakhstan is not the No. 1 Capricorn country for nothing. Let's look at the hunting logs of our guests from the past years. What were the dream trophies among them: 130 cm, 132 cm, 135 cm, 136 cm, 139 cm and the top trophy measured 143 cm. These are hardly believable values, but they are documented and can be read in many places. Not only the length of the hoses is decisive, the trophies only appear bulky with a broad base circumference and - what's more - with many pronounced decorative beads. And only when you evaluate dozens of ibex trophies every year, as we do, do you see a variety of horn shapes. There are narrow or wide tubes with hardly any or pronounced decorative ridges, light to black-brown colouring, with an abnormal position, broken off or worn tips. One can only advise every hunter to hunt for this magnificent game in a mountain range that is one of the most beautiful in the world.
Where is the best area?
We get this question almost every day and we can answer it with a clear conscience: In the Djungarian Alatau. The name Alatau comes from the Kyrgyz language and means = colorful mountains. According to competent Kazakh wildlife biologists, this mountain range in eastern Kazakhstan is the area with the highest density of ibex in the world. Despite a height of up to 3,500 m, the mountains are easy to climb, even for hunters of normal fitness. You don't have to be a high-performance athlete to successfully hunt for ibex, but you should prepare yourself.
The Alatau is about 400 km long, up to 80 km wide, and only inhabited by a few semi-nomads and farmers. The mountains offer little for the population there, but a lot for us hunters. Think of the Djungarian Alatau as a high plateau. Below you are the mountains with the beautiful alpine meadows, the valleys are only sparsely forested and you have a wonderful view of the snow-covered five and six thousand meter peaks in China. Believe us, you will never forget these days. And because it's the world's best area, we've also secured the exclusive rights.
About the itinerary:
From Germany you can be in Almaty in just under 7 hours and thus in a different world. You meet Asian-looking people and encounter a different culture. What does time mean down there? What is hectic and stress? Forget our notions of minute-by-minute planning! Just let yourself drift and you will be amazed at how, despite a lot of palaver, of which we don't understand a word anyway, weapon and customs formalities go smoothly. Like many other Eastern peoples, the Kazakhs are stamped in love. This symbol of sovereignty is placed on the forms incredibly often. We then continue by car in the direction of the Djungarian Alatau. It's always straight ahead. Try to get some sleep because the days ahead are going to be tough enough. After a few hours we will rest and you will be served the first Kazakh delicacies. In the afternoon you are already in the main camp at 1690 m and can acclimatize a bit. The base camps were well and professionally equipped by us and our partner KOLYASU International. Until now, the hunters have mostly been accommodated in yurts, but these are increasingly being replaced by stable and comfortable log houses. In the base camps there are guest houses and kitchen tents, but also showers and saunas. Eating is traditionally done in yurts. Electricity is generated by generators. Cooks take care of the physical well-being. On the hunt, your guides will provide you with venison, potatoes, soups, noodles and preserves in the field. If you like, you can take non-perishable food such as (e.g. dry sausage, muesli bars, etc.) with you wrestle A sleeping bag with a comfort range down to -10 °C and a mat are also essential.
In the high mountains, at an altitude of over 2,500 m, it is sometimes very cold both in winter and in summer, so that the hunter has to take warm clothing, especially gloves and a hat. In summer it can also rain more often. We therefore recommend that you always have rain gear with you. After a good night's sleep, it's time to get up early the next morning. Your guides are ready. Horses are saddled and packed. For the next few days there is 'your hunting family' as you leave the camp and head into the actual hunting area. Somewhere the tents will be set up (at 2500 m to 3500 m) and from now on you only rely on the experience and skills of the Kazakhs. You will not be disappointed, because despite good training, the local hunters only get a small salary and they know exactly: if the guest is satisfied and gets his ibex, there is also a decent tip. An extra income that most game guides depend on. Provided the weather is normal, you will see ibexes several times a day. And once you've killed your ibex, you can be proud of yourself. Because you have achieved something and as a reward you can take home an impressive trophy and, above all, an exciting hunting experience.
Gear and Weapons:
Ibex hunts are hard and exhausting mountain hunts. Every hunter should - if only in his own interest - prepare himself thoroughly. Choose your equipment wisely. It is important to wear heat-, wind- and rain-repellent clothing. You need well broken-in shoes and a backpack in which everything you need can be stowed. We have equipment help for you, which we will send to you in good time before you travel.
A spotting scope and a rangefinder are important for hunting in the mountains in addition to the gun. In general, the shooting distances are higher than in our local hunting grounds. However, since you usually shoot from a resting position (lying down), it is usually not a problem to still make a proper shot at 300 m. However, please practice beforehand on a shooting range that allows you to shoot at this distance. And above all: Don't be confused by the statements of some 'comrades in hunting', who speak of shooting distances that are beyond the 400 m limit. These people have no idea about hunting and probably never set foot on Kazakh soil. All calibers in the upper performance range are recommended. Our guests and we have had the best experiences with calibers such as 8 x 68 S, all cartridges in the .300 group (Winchester, Weatherby or Pegasus) and similar ones. Take advantage of our experience and hunting expertise and trust our advice.
Something about hunting times and climate:
The Siberian ibex can be hunted from August to early November. During this time the weather is fairly stable and at least in August and September there are days when you can hunt in light summer clothing. The first night frosts occur in October and at the beginning of November there is usually a solid blanket of snow. All in all, climatic conditions that are well tolerated by the 'normal' European. Even the heights of 3,000 to 3,400 m are no problem for the healthy and prepared guest hunter. Traditionally, there is a lot of riding on the ibex hunt and it is incredible fun to escape the everyday stress and hectic for a few days with your guides, food and equipment.
We are happy to offer you the following arrangement:
8 days of travel, up to 6 days of hunting, reception at Almaty airport, assistance with customs, immigration and weapons formalities, transfer to and from the hunting area, accommodation and meals during the hunt, all transport in the hunting area (horses, jeeps), hunting guidance, camp staff and interpreter, field preparation of trophies
per hunter € 3,970.00
Trophy fees siberian ibex
up to 115 cm € 1,990.00
each additional 5 cm up to 140 cm € 550.00
plus surcharge from 140.01 cm flat rate € 1,800.00
The basis for calculation is the longer horn.
GUARANTEE:
If, contrary to expectations, you do not get a shot at a distance of about 300 m, you can go hunting repeat for free.
Not included in the price:
Flight Europe - Almaty h/z, with Lufthansa approx. € 890.00
Import of weapons and handling charges € 300.00
Registration fee (payable upon arrival at the airport), currently around €30.00
Kazakh hunting license (payable on arrival), currently around €60.00
Non-hunting person € 3,000.00
CITES ibex (Capra Sibrica Appendix III) € 200.00
Veterinary certificate per wild species € 100.00
Visa (if required)
Hotel accommodation in Almaty
Shipping of trophies, excess baggage
Your order is considered fulfilled and the hunt completed as soon as the booked game has been killed.
Territory information
Type of territory: Free range
Area: Mountains, High mountains
Languages: English, Russian, Kasachisch
Hunting methods: Stalking
Additional information: Sie jagen im Dschungarischen Alatau, einem der schönsten und menschenleersten Gebirge unserer Erde. Der Name Alatau stammt aus dem Kirgisichen und bedeutet = ´Buntes Gebirge´. Dieses Gebirge im Osten Kasachstans ist nach Aussagen kompetenter kasachischer Wildbiologen das Gebiet mit der höchsten Maraldichte weltweit. Trotz einer Höhe bis zu 3.500 m sind die Berge, auch für den normalen Jäger, (mit Hilfe der genügsamen und kräftigen Pferde) gut zu begehen. Man muss kein Hochleistungssportler sein, um erfolgreich auf Marale zu jagen. Eine gewisse Vorbereitung stellt dennoch keinen Nachteil dar. Der Alatau ist etwa 400 km lang, bis zu 80 km breit, und nur von wenigen Halbnomaden und Bauern bewohnt. Den Menschen bietet das Gebirge wenig, uns Jägern viel.
Trophy fee
Shooting fees total:
€
,-
Travel date
0 chosen hunting day(s)
0 additional travel day(s)
Sum: 0 days with 0 overnights
Your selected travel date
-
30.11.2023
(Departure day)
Daily rate and accommodation
Facilities:
More information: Das Basiscamp besteht aus festen Jagdhütten, einem Aufenthaltsraum in dem gemeinsam gegessen wird, eine Sauna und WC. Strom wird mittels Generatoren erzeugt. Auf der Jagd werden Sie von den Guides mit Wildbret, Kartoffeln, Suppen, Nudeln und Konserven feldmäßig versorgt. Ein warmer Schlafsack, mit Komfortbereich bis ca. -10 °C und eine Iso-Liegematte sind unverzichtbar, da wärend der Jagd nahe den Maraleinständen in Zelten übernachtet wird. Im Hochgebirge ist es auf einer Höhe von über 2.500 m sowohl im Winter als auch im Sommer teilweise ziemlich kalt.
Guidance:
1 : 2
Daily rate hunters:
Daily rate non hunting person(s):
Daily rates total for HUNTING DAY(S): € ,-
Other costs:
Waffeneinfuhr und Bearbeitungsspesen
€ 300,-
Kasachischer Jagdschein (zahlbar bei Ankunft), derzeit ca.
€ 60,-
Meldegebühr (zahlbar bei Ankunft am Flughafen), derzeit ca.
€ 30,-
CITES Steinbock (Capra Sibrica Appendix III)
€ 200,-
Veterinärzertifikat pro Wildart
€ 100,-
instead of:

€

,-

Total price:
€
,-
Transfer:
Nearest Airport: Almaty (ALA)
Distance to airport: -
Pick up service: - Fees: -
Nearest railway station: -
Distance to railway station: -
Pick up service: - Fees: -
Caliber recommendation:
8 x 68 S, alle Patronen der .300-er Gruppe (Winchester, Weatherby oder Pegasus)
Missed shot:
0 % of the estimated trophy price
Payment:
Deposit: 50 % of the total price
Final payment: 10 days before the trip
Wounding:
100 % of the estimated trophy price
Cancellation:
Deposits are non-refundable
Included in the offer:
Accommodation
Meals
Tee / Coffee
Guidance
Trophy treatment: Field preparation
Transportation in territory
Transportation from/to airport/railway station
Interpreter service
Assistance at customs
NOT included in the offer:
Service fee
Hunting licence
Trophy measurement
Taxidermist
Trophy export
Insurance
Visa invitation documents
Accommodation before and after hunt
Other users also looked at the following: