Report was send successfully
Leopard Hunt in Botswana - 14 days all inclusive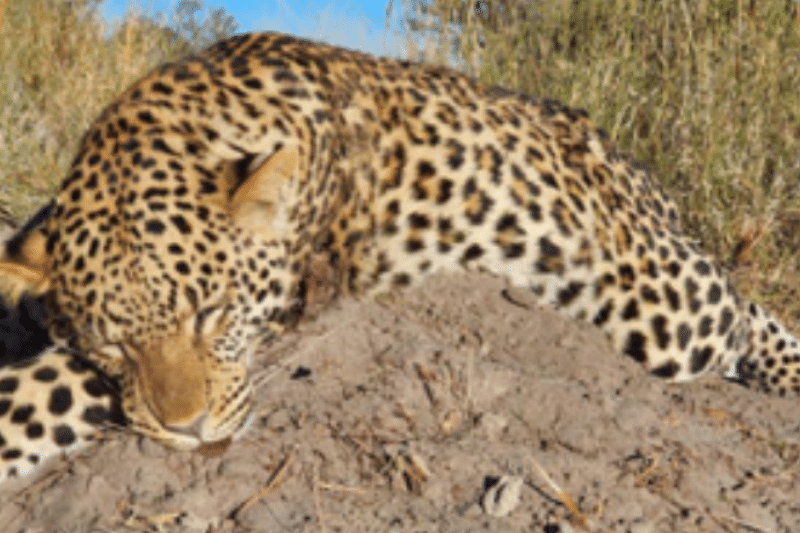 Leopard Hunt in Botswana - 14 days all inclusive
Location: Morematao, Botswana
Hunting time: 01. April - 30. September
Description:Our hunting area for leopards is located in the area NG49. It is 120km South East from Maun airport. A comfortable one and half hour drive to camp. The area is part of the Phuduhudu community, with whom we have a close relationship. They benefit directly from the hunting. ..more offer details
Other users also looked at the following:
Offer description
Our hunting area for leopards is located in the area NG49. It is 120km South East from Maun airport. A comfortable one and half hour drive to camp. The area is part of the Phuduhudu community, with whom we have a close relationship. They benefit directly from the hunting. The bulk of the revenue and meat obtained through hunting goes to them. It will also contribute to projects uplifting their lives and empowering the community.

The Hunt
Lucas and Randy, your guides, have more than 30 years of experience in hunting and hospitality industry. We use well-equipped hunting vehicles, equipped with fridges, all drinks, snacks etc. We also have excellent trackers.
The days hunting will typically start after an early breakfast, with a field lunch in the bush. You will return to the lodge in the evening for a great meal and well-deserved drinks and relax around the campfire.
Our local partner taxidermy will collect your trophy immediately after the hunt and make sure it is in pristine condition.
Hunting season in Botswana for Area NG49 is from April to September and NG11 from April to December.
July to September is recommended time for leopard hunting.

Weather
Summer in Botswana is from November to March. There is always a possibility of rain in the summer, especially in December, January and February. It can get cold when it rains. The summer temperatures during the day vary from 30C°(86F°) to 38C°(100.4F°), at night the temperature is usually approximately 18C° (64.4F°) to 20C°(68F°) in summer. Spring is from September to October. The day time temperatures are much the same as summer.
However the evenings can range from approximately 14C°(57.2F°) to 18C°(64.4F°).
The fall/winter months are May, June, July and August. The temperatures are warm in the day usually ranging from 20C°(68F°) to 25C°(77F°) and cold at night sometimes dropping below freezing. The dry season is generally March to October.

Travel
Your arrival city will be Maun in the Northern part of Botswana. Generally the easiest way is to fly thru Johannesburg, but alternatively, arriving to Windhoek (Namibia) could be an option too. Most likely airlines to use these routes would be SAA, KLM, Qatar, Emirates and Air Botswana.
You will be picked up at Maun airport and transported to your lodge.
Visas are currently not required for Citizens from the USA, Spain, Italy, UK, Australia and Mexico. Please contact us for more details.

Medication
Botswana is generally perceived to be one of the safest places in Africa to travel. Malaria is considered low risk in NG 49 and malaria is considered being more prevalent in the northern regions in the Delta.
Territory information
Territory size: 120.000 Hectare
Type of territory: Free range
Area: Mountains, Grassland, Hilly
Languages: English
Hunting methods: Stalking
The package deal includes
Included in the price: 1 animal(s)
Travel date
0 chosen hunting day(s)
0 additional travel day(s)
Sum: 0 days with 0 overnights
Your selected travel date
-
30.09.2024
(Departure day)
Daily rate and accommodation
Facilities: Internet, TV, Sauna, Restaurant, Bar, Air condition, Safety deposit box, Private bathroom, Full board
More information:
Guidance:
1 : 1
This offer applies for: 1 hunter(s)
Other costs:
instead of:

€*

,-

Total price:
€*
,-
* This price was calculated with an online exchange rate. The billing will be in $.
Transfer:
Nearest Airport: Maun airport
Distance to airport: 120 km
Pick up service: - Fees: -
Nearest railway station: -
Distance to railway station: -
Pick up service: - Fees: -
Missed shot:
0 % of the estimated trophy price
Payment:
Deposit: 50 % of the total price
Final payment: On site
Wounding:
100 % of the estimated trophy price
Cancellation:
Deposits are non-refundable
Included in the offer:
Accommodation
Meals
Half board
Full board
Breakfast
Lunch
Dinner
Snacks
Tee / Coffee
Hunting licence
Trophy measurement
NOT included in the offer:
Alcoholic drinks
Gun rental
Taxidermist
Trophy export
Insurance
Transportation from/to airport/railway station
Tips
Accommodation before and after hunt
Vension
Other users also looked at the following: