Report was send successfully
ROEBUCK hunting in Slovakia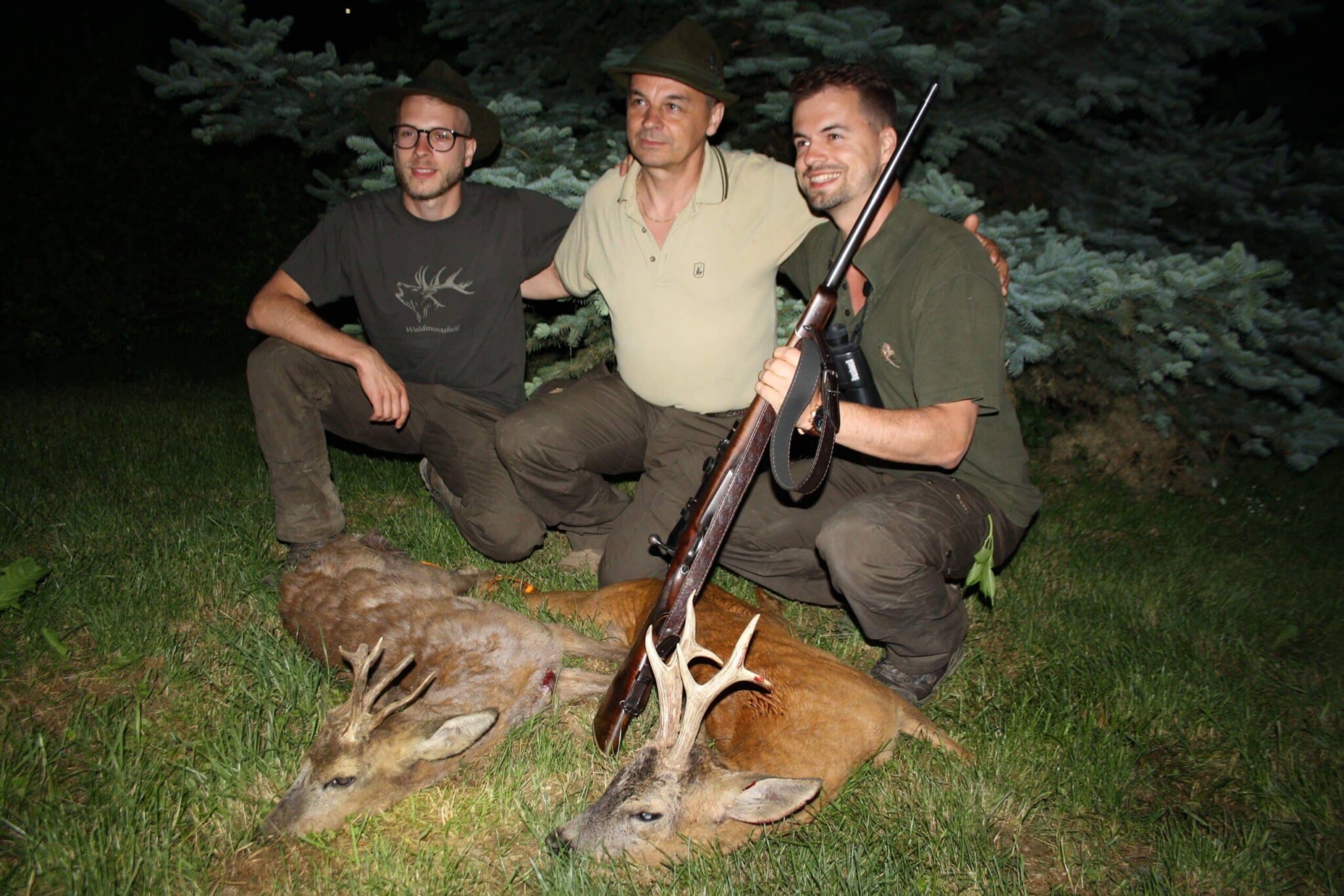 ROEBUCK hunting in Slovakia
Location: Slovakia, Slovakia
Hunting time: 16. May - 30. September
Description:BASIC PRICE: 1200€ 5 days/ 4 nights / 3 full hunting days Roebuck hunting is specific beautiful. Especially because the hunting start from early morning, sometimes from 3:00 a.m. This is because old roebucks move mainly in the dark and it is important to get to them ..more offer details
Other users also looked at the following:
Offer description
BASIC PRICE: 1200€ 5 days/ 4 nights / 3 full hunting days
Roebuck hunting is specific beautiful. Especially because the hunting
start from early morning, sometimes from 3:00 a.m. This is because old
roebucks move mainly in the dark and it is important to get to them
territory in time. Outside of mating season, roebucks are mainly hunted
by searching in various locations by walk&stalk with professional guider.
Of course, guiders have a roebucks area monitored before the arrival of
the hunters and they know about many good quality roebucks in advance.
During the mating season, new roebucks come to our hunting areas
regularly so the "call" method with roebuck calls is always used. Every
hunter has a professional guide at his disposal, who will tell him about
the quality, age and type of roebuck. All our hunting areas for roebucks
are very strong of roe deer popluation, so Hunters will have a choice of
several roebucks during the day.
Upon arrival at the airport (BUDAPEST, BRATISLAVA or VIENNA)
we will pick you up and then move to accommodation, which is
located directly in the hunting area or near it. The most suitable
alternative is the airport in BUDAPEST (approx. 1.5 - 2 hours – base
form locations ). If hunters arrive at the accommodation early, it is
possible to start hunting on the first day of arrival. After it is
planned 3 full hunting days, during which we hunting from morning
to midday and in the afternoon until dark. On the last day, the
hunters leave the accommodation according to the time of the
scheduled departure from airport. If some of the hunters are
interested in hunting on the last day in the morning, they are
allowed to do. In the case of roebucks trophies, the trophies are
ready immediately and if interested, the hunters can take them
home.
Territory information
Territory size: 20.000 Hectare
Type of territory: Free range
Area: Flat, Mountains, Hilly, Forest
Languages: English, Czech, Hungarian
Hunting methods: High seat, Stalking
Trophy fee
Weight
From 300 g to 349 g
Weight
From 350 g to 399 g
Weight
From 400 g to 449 g
Weight
From 450 g to 499 g
Shooting fees total:
€
,-
Travel date
0 chosen hunting day(s)
0 additional travel day(s)
Sum: 0 days with 0 overnights
Your selected travel date
-
30.09.2023
(Departure day)
Daily rate and accommodation
Facilities: Internet, TV, Bar, Private bathroom, Half board
More information: Hunters are accommodated during the hunting trip directly in the

hunting place or near it. The hunting hotels are located about a 5-10

minutes drive from the hunting place or exactly in hunting place and

including a restaurant and mostly nice wellness. In restaurants can

hunters eat during the brakes and at the evening. Hunting lodges are

located exactly in the hunting place and they are especially suitable for

bigger groups of hunters (4-8). Hunting lodge has separate toilets and

bathroom, lounge, single rooms and in some of them is jaccuzi. Due to

the fact that we have many accommodation options, we can adapt the

accommodation to the requirements of hunters. We send details and

pictures of accommodation to hunters through the ordering hunting,

depending on the location in which they will hunt.

If hunters are accommodated in a hunting hotel during the trip, they have

included breakfast and eat during the day in the restaurant that is part

of the hotel whenever they want – during the breaks. If the hunters are

accommodated in a luxury hunting lodge, they can eat by themselves , or

they can order a full board (meals 4 times in day) by our private chef who

prepares deliciousspecialtiessuch as red deer steaks and burgers, baked

wild boar ribs, roe deer goulash soup, grilled deer meat, etc. A limited amount of alcoholic beverages is included in the price of the "full board by private chef" service.
Guidance:
1 : 1
Daily rate hunters:
Daily rates total for HUNTING DAY(S): € ,-
Other costs:
Full board by private chef
€ 150,-
instead of:

€

,-

Total price:
€
,-
Transfer:
Nearest Airport: Budapest
Distance to airport: 150 km
Pick up service: - Fees: -
Nearest railway station: -
Distance to railway station: -
Pick up service: - Fees: -
Missed shot:
0 % of the estimated trophy price
Payment:
Deposit: 500 €
Final payment: On site
Wounding:
50 % of the estimated trophy price
50% of expected weight of the trophy
Cancellation:
Deposits are non-refundable but can be transferred to an other hunting trip / hunter
Included in the offer:
Accommodation
Half board
Snacks
Tee / Coffee
Beverages
Service fee
Hunting licence
Guidance
Trophy measurement
Tourism tax
Insurance
Transportation in territory
Transportation from/to airport/railway station
Interpreter service
NOT included in the offer:
Full board: 250€
Alcoholic drinks
Gun rental: 150
Trophy treatment: 40€
Taxidermist
Trophy export
Tips
Activities, other than hunting
Other users also looked at the following: