Report was send successfully
Kudu, Weisser-blessbock, Impala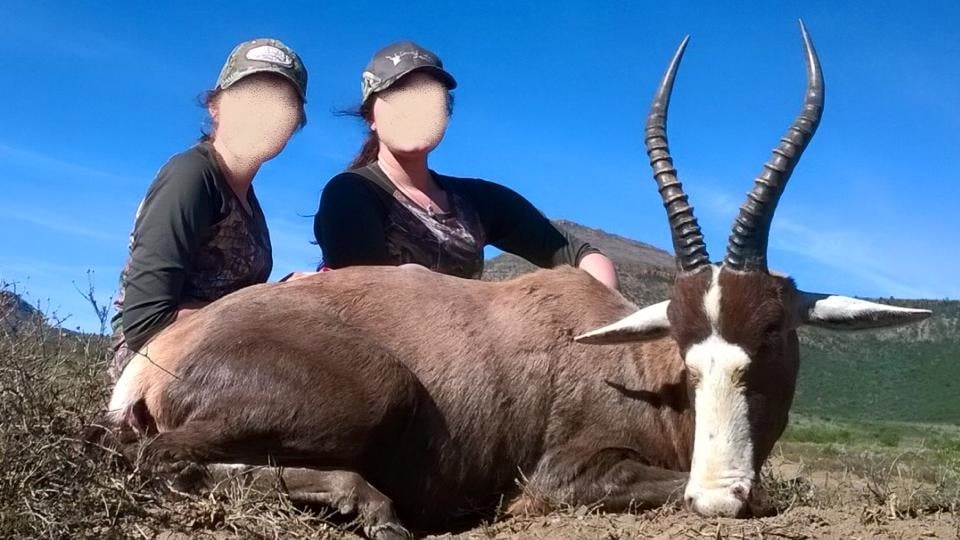 Antelope Management Hunt
Location: Camdeboo, South Africa
Hunting time: 01. February - 30. November
Description:Welcome to Leopard's Valley Safaris I am Dave Davenport , owner of Leopard's Valley Safaris, and I will be your host for your unforgettable, sustainable fair chase African hunting safari. Antelope Management hunt for 1:1 for $3.900, 00 7 Days hunting, 8 night's accommodation, shoot 10 management animals ..more offer details
Other users also looked at the following:
Offer description
Welcome to Leopard's Valley Safaris
I am Dave Davenport , owner of Leopard's Valley Safaris, and I will be your host for your unforgettable, sustainable fair chase African hunting safari.
Antelope Management hunt for 1:1 for $3.900, 00
7 Days hunting, 8 night's accommodation, shoot 10 management animals
Kudu cow
Blesbuck Ewe
Impala Ewe
7 Common springbuck (Driven hunt) Or walk and stalk - $120 each
Add Eland cows for $600
Add Kudu cows for $300
Add Wildebeest cows for $300
Add Impala or Blesbuck ewes for $200
Add Springbuck ewes for $100
Trophy animals can be added as per our list price
2:1 for $3.700, 00 per hunter
4:2 for $3.300, 00 per hunter
Observer rate $195,00 per person per day/night
ALL PACKAGE PRICES AND DAILY RATES INCLUDE:
Service of professional hunter
Hunting vehicle
Trackers and skinners
Accommodation, all meals, soft drinks beer and wine.
Laundry service
Field preparation of trophies
Hunting license
All transport by road for the duration of the safari while hunting
ALL PACKAGE PRICES & DAILY RATES EXCLUDE:
All air travel
Pre and post safari accommodation and meals
Rifle hire and ammunition
The preparation, dipping, packing, documentation and export of trophies from South Africa.
Gratuities
Trophy fees on additional animals taken
Day trips
There is a transportation charge of $250 for all day trips. (This cost excludes entrance fees and meals. We can however arrange for packed lunches.)
Fully guided tours are available at $450 per person, including meals and accommodation.
ALL ANIMALS WOUNDED OR LOST WILL BE PAID FOR IN FULL AT THE END OF THE SAFARI.
Territory information
Territory size: 190.000 Acres
Area: Grassland
Languages: English
Hunting methods: Stalking, Driven hunt (slow)
Additional information: We hunt mainly free range, UNFENCED conservancies or ranch land. This is added to our existing neighbouring concessions of 42 000 acres of unfenced private game reserve, and 2 other private reserves each being 37 000 acres of abundant game, including free roaming 4 of the Big 5. This gives us a total hunting area of 190 000 acres of adjacent areas. These properties have most of the 30+ hunt able species of Southern Africa within an hour's drive of the Main Lodge.
The package deal includes
Included in the price: 1 animal(s)
Included in the price: 1 animal(s)
Included in the price: 1 animal(s)
Travel date
0 chosen hunting day(s)
0 additional travel day(s)
Sum: 0 days with 0 overnights
Your selected travel date
-
30.11.2023
(Departure day)
Daily rate and accommodation
Facilities: Internet, TV, Air condition, Private bathroom, Laundry service
More information: We offer "ALL INCLUSIVE" accommodation, all food, beer and local wine and non-alcoholic drinks. We are open to guests all year round in this Bilharzia and Malaria free area. We use clear spring water of a mineral quality, that is pumped from an underground aquifer. Bottled water is also supplied. The lodge is serviced daily with your laundry ironed and folded on your bed each evening when you return. 2 people can sleep per room, in double or single beds, all with en-suite bathrooms and modern day conveniences and 8 guests can sleep at the Lodge. The guests are treated to Traditional South African Cuisine, with a large garden and pool area to relax in. This is an ideal getaway for a group of family or friends, or simply that quiet holiday on your own.
Guidance:
1 : 1
This offer applies for: 1 hunter(s)
Other costs:
instead of:

€*

,-

Total price:
€*
,-
* This price was calculated with an online exchange rate. The billing will be in $.
Transfer:
Nearest Airport: Port Elizabeth
Distance to airport: -
Pick up service: Yes Fees: -
Nearest railway station: -
Distance to railway station: -
Pick up service: - Fees: -
Missed shot:
0 % of the estimated trophy price
Payment:
Deposit: 50 % of the total price
Final payment: On site
Wounding:
100 % of the estimated trophy price
ALL ANIMALS WOUNDED OR LOST WILL BE PAID FOR IN FULL AT THE END OF THE SAFARI.
Cancellation:
If cancelled 3 months prior to hunt, 50% of deposit will be returned. If cancelled less than 1 month before hunt, no deposit will be refunded.
Included in the offer:
Accommodation
Full board
Tee / Coffee
Beverages
Alcoholic drinks: in moderation
Hunting licence
Guidance
Transportation in territory
Transportation from/to airport/railway station
Accommodation before and after hunt
NOT included in the offer:
Gun rental
Ammunition
Taxidermist
Trophy export
Insurance
Tips
Activities, other than hunting
Other users also looked at the following: