Report was send successfully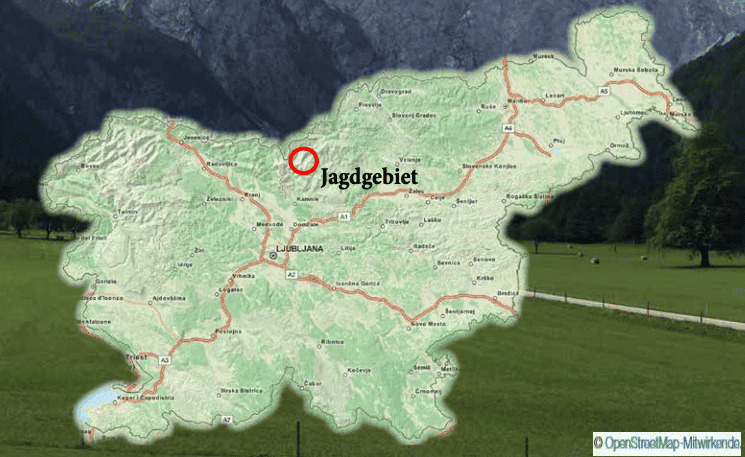 Chamois in Slovenia
Location: Kamnik, Slovenia
Hunting time: 01. August - 31. December
Description:Size and nature of the territory: The state hunting district 'Kozorok Kamnik' is located in the north of Slovenia, in the Steiner Alps. With a size of 43,000 ha, it is divided into 13 districts, which are looked after by experienced professional hunters. The highest elevation is Mount Grintavec ..more offer details
Other users also looked at the following:
Offer description
Size and nature of the territory:
The state hunting district 'Kozorok Kamnik' is located in the north of Slovenia, in the Steiner Alps. With a size of 43,000 ha, it is divided into 13 districts, which are looked after by experienced professional hunters. The highest elevation is Mount Grintavec north of Kamnik at 2,558 m. Chamois are usually hunted at an altitude of around 1,800 m, rarely higher. It is a varied landscape with light mountain forests, extensive alpine meadows and rugged rocky regions. The hunt usually begins in the morning between 6 and 7.30 am with the hunters picking you up at your accommodation. Depending on the weather, we first drive to the area by car and the stalking begins. Shooting distances are usually around 200 meters.
Location of the hunting area:
Slovenia, which gained independence in 1991, has been a member of the European Union since 2004 and adopted the euro as its national currency in 2007. Kozorok Kamnik is located in the north, about 30 minutes from Ljubljana Airport. You can reach the area from Munich in about 4 hours by car.
game species:
Kozorok Kamnik has the largest population of chamois in Slovenia. Around 340 chamois are scheduled to be shot every year. The hunting season starts on August 1st and ends on December 31st. The rut falls in November, but at this time hunting can be difficult due to weather conditions alone. We recommend hunting from August to October. The strongest chamois buck so far was rated with 111 points, the biggest goat with 109 points. On average, the horns are between 80 and 95 CIC points.
Accomodation:
When hunting chamois, most guests prefer to stay in a rustic hut with self-catering. There are over 20 cabins, 6 of which are accessible by car. If you want it more comfortable, you can stay in one of the inns in the valley.
Then, however, a longer journey to the area has to be accepted. We know Slovenia and chamois hunting very well from our own experience. Let us inform you in detail about the optimal travel time, weapons, optics, equipment and clothing.
We offer the following arrangement per hunter:
• 5 travel days • 4 overnight stays in a self-catering hunting lodge • 3 hunting days • Daily hunting fee • Organization of the hunt • Game guide • Use of all hunting facilities • Preparation of the trophy
per hunter at a price of € 579.00
+ processing fee € 185.00
Total € 764.00
Trophy fees for chamois (hunting season from August 1st to December 31st):
Chamois up to 70.00 CIC points € 671.00
70.01 to 80.00 CIC points € 854.00
80.01 to 85.00 CIC points € 1,037.40
85.01 to 90.00 CIC points € 1,220.00
90.01 to 95.00 CIC points € 1,342.00
95.01 to 100.00 CIC points € 1,708.00
100.01 to 105.00 CIC points € 2,196.00
105.01 to 110.00 CIC points € 2,684.00
Each additional point over 110.01 CIC points € 223.66
Chamois € 71.16
Wounding of buck or goat € 630.34
Atypical trophy € 1,220.00
Shooting fee per marmot € 300.00
If a part of the horn has broken off, but it is still possible to measure the display, the trophy is rated normally. But when the horns are completely broken off, so the measuring of the height and the display is no longer possible, the trophy will not be evaluated. In this case, a flat fee of € 1,220.00 is charged.
Extra costs:
• Meals, drinks
• Any hotel accommodation
• Gratuities, personal expenses, travel to and from the event, return transport of trophies
• License fee for shooting chamois € 100.00 per chamois
• Additional hunting day € 170.00
• Non-hunting escort, per day € 30.00
• Travel costs per km (payable on site) € 0.73
• Venison chamois per 1 kg €6.90 (venison must be taken over for shoulder preparations)
Territory information
Territory size: 43.000 Hectare
Type of territory: Free range
Area: Mountains, High mountains, Grassland, Forest
Languages: English, German, Slowenisch
Hunting methods: Stalking
Trophy fee
Chamois
See offer description
CIC-Points
Up to 70 Points
Chamois
See offer description
CIC-Points
From 70.01 Points to 80 Points
Chamois
See offer description
CIC-Points
From 80.01 Points to 85 Points
Chamois
See offer description
CIC-Points
From 85.01 Points to 90 Points
Chamois
See offer description
CIC-Points
From 90.01 Points to 95 Points
Chamois
See offer description
CIC-Points
From 95.01 Points to 100 Points
Chamois
See offer description
CIC-Points
From 100.01 Points to 105 Points
Chamois
See offer description
CIC-Points
From 105.01 Points to 110 Points
Surcharge: +
€
224,-/1Points
Shooting fees total:
€
,-
Travel date
0 chosen hunting day(s)
0 additional travel day(s)
Sum: 0 days with 0 overnights
Your selected travel date
-
31.12.2023
(Departure day)
Daily rate and accommodation
Facilities: Self-catering
More information: Es gibt über 20 Hütten, von denen 6 mit dem Auto erreichbar sind.

Wer es komfortabler möchte, kann in einem der Gasthöfe, die im Tal liegen, übernachten. Dann muss jedoch eine längere Anfahrt ins Revier in Kauf genommen werden.
Guidance:
1 : 1
Daily rate hunters:
Daily rate non hunting person(s):
Daily rates total for HUNTING DAY(S): € ,-
Other costs:
Lizenzgebühr pro Gamsabschuss
€ 100,-
instead of:

€

,-

Total price:
€
,-
Transfer:
Nearest Airport: Ljubljana
Distance to airport: -
Pick up service: - Fees: -
Nearest railway station: -
Distance to railway station: -
Pick up service: - Fees: -
Missed shot:
0 % of the estimated trophy price
Payment:
Deposit: 50 % of the total price
Final payment: On site
Wounding:
94 % of the estimated trophy price
€ 630,34 Fixbetrag bei Bock oder Geiß
Cancellation:
Deposits are non-refundable
Included in the offer:
Accommodation: Jagdhütte Selbstversorgung
Guidance
Trophy treatment: Vorbereitung
NOT included in the offer:
Meals
Beverages
Hunting licence
Taxidermist
Trophy export
Transportation in territory: 0,73€/km
Vension: 6,90€/kg
Other users also looked at the following: