Report was send successfully
Hunt on interessting game on Progress Farm, Namibia
Oryx, Hartebeest, Streifengnu, Springbock, Steinboeckchen, Pavian, Schakal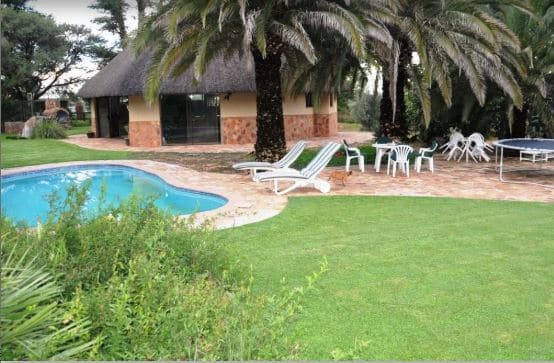 Hunt on interessting game on Progress Farm, Namibia
Location: Windhuk, Namibia
Hunting time: 01. February - 30. November
Description:Hunting on plains game in a beautiful hunting area not far away from Windhok. Offered are Hartebeest, Warthog, Blue Wildebeest, Oryx, Springbuck, Steenbuck, Baboon and Jackal. The 40.000 hectar area has good amounts of game for all offered species. It especially is famous for the good Hartebeest and ..more offer details
Other users also looked at the following:
Offer description
Hunting on plains game in a beautiful hunting area not far away from Windhok.
Offered are Hartebeest, Warthog, Blue Wildebeest, Oryx, Springbuck, Steenbuck, Baboon and Jackal. The 40.000 hectar area has good amounts of game for all offered species. It especially is famous for the good Hartebeest and Warthog trophies. The offered species are included in the given price.
The game is hunted by walk and stalk with rifles but our trackers are also really good in getting near the animals, which gives the possibillity for bow hunting also. The area is a perfect area for first time hunting in Africa on plains game and the conditions are quite easy.
The accomodation is very comfortable and not far away from the airport, but still is in the middle of Namibias nature.
You can relax under the Wooden Boma to celebrate sun-downers with a typical African atmosphere to it.
Dinner is in our thatched Lapa, decorated in a unique African way, complemented by our fusion of cosmopolitan and local dishes.
You can enjoy the entertainment centre featuring a wine & scotch cellar, outdoor saltwater pool, Jacuzzi, infrared sauna, fitness room and satellite television lounge, all at your disposal.
For the business minded person, there is mobile phone reception, WiFi hotspots, fax, printing, scanning and copying facilities, although our wish would be that you relax and rejuvenate whilst on safari with us.
The given price is for 2:1 guide. The given price is for one hunter. It is possible for 4 hunters to come. Every hunter can take a non hunting accompanying person with him. The daily fee for a non hunting person is 120€ All-Inclusive. It is also possible to pay in dollar.
It´s six hunting days, but the day of arrival and leaving is included for no extra costs.
There are no special medical health requirements prescribed for entry in Namibia.

Territory information
Territory size: 40.000 Hectare
Type of territory: Free range
Area: Flat, Hilly, Grassland, Steppe, Bush/Scrubland
Languages: English, German
Hunting methods: Stalking, Bow hunt
Additional information: The non fenced area is not far away from the airport. The area is famous for its Hartebeest and Warthog trophies. The landscape shows rolling hills, dry riverbeds, bush savanna and non fenced cattle farming areas.
The package deal includes
Included in the price: 1 animal(s)
Included in the price: 1 animal(s)
Included in the price: 1 animal(s)
Included in the price: 1 animal(s)
Included in the price: 1 animal(s)
Included in the price: 1 animal(s)
Included in the price: 1 animal(s)
Travel date
0 chosen hunting day(s)
0 additional travel day(s)
Sum: 0 days with 0 overnights
Your selected travel date
-
30.11.2024
(Departure day)
Daily rate and accommodation
Facilities: Internet, TV, Safety deposit box, Private bathroom, Laundry service, Full board
More information: The hunting lodge is just 15 min drive from the international airport, but it´s in the middle of the country side.





Our rooms are fitted standard with the following:





En-suite bathrooms.


Extra length orthopedic beds.


Down comforters with the finest cotton percale linen, handmade by Anin in Namibia and extra blankets in winter.


Electric blankets for those chilly nights


Heaters, wooden fireplaces, hairdryers, gun safes, fly screens to keep insects out, fruit baskets, filtered water, snugly gowns, shoe polish attire, 24 hour electricity 220-240 volt.


Complimentary bio-degradable and organic toiletries for your use (soap, shampoo, body lotion, insect repellent).


Private verandas to relax on and watch our magnificent sun-downers or to stargaze at night.


All rooms face the African bush and lend themselves to magnificent animal, landscape and sunset viewing.






Guidance:
2 : 1
This offer applies for: 2 hunter(s) and 4 non hunting person
Other costs:
instead of:

€

,-

Total price:
€
,-
Transfer:
Nearest Airport: Windhuk International Airport
Distance to airport: 15 km
Pick up service: Yes Fees: -
Nearest railway station: -
Distance to railway station: -
Pick up service: - Fees: -
Trophy treatment:
The skinning team will attend to the field preparation (skinning, capeing, cleaning, salting and drying) of your trophies. Clients' trophies will be delivered to the shipping agent or Taxidermist of their choice in Namibia.
The cost of taxidermy work in Namibia is affordable, the quality of the workmanship is excellent. The current completion time for mounts in Namibia is about 12 months.
We would gladly obtain quotations for you from our local taxidermist
Missed shot:
0 % of the estimated trophy price
Payment:
Deposit: 50 % of the total price
Final payment: On site
Wounding:
100 % of the estimated trophy price
Wounded animal is considered as harvested
Cancellation:
Deposits are non-refundable
Included in the offer:
Accommodation
Meals
Full board
Hunting licence
Guidance
Trophy measurement
Trophy treatment
Tourism tax
Transportation in territory
Transportation from/to airport/railway station
Accommodation before and after hunt
NOT included in the offer:
Gun rental
Ammunition
Taxidermist
Trophy export
Tips
Activities, other than hunting
Other users also looked at the following: