Report was send successfully
Hunting plains game in Kwa-Zulu Natal, South Africa
Buschschwein, Kronenducker, Impala, Kudu, Nyala, Streifengnu, Warzenschwein, Strauss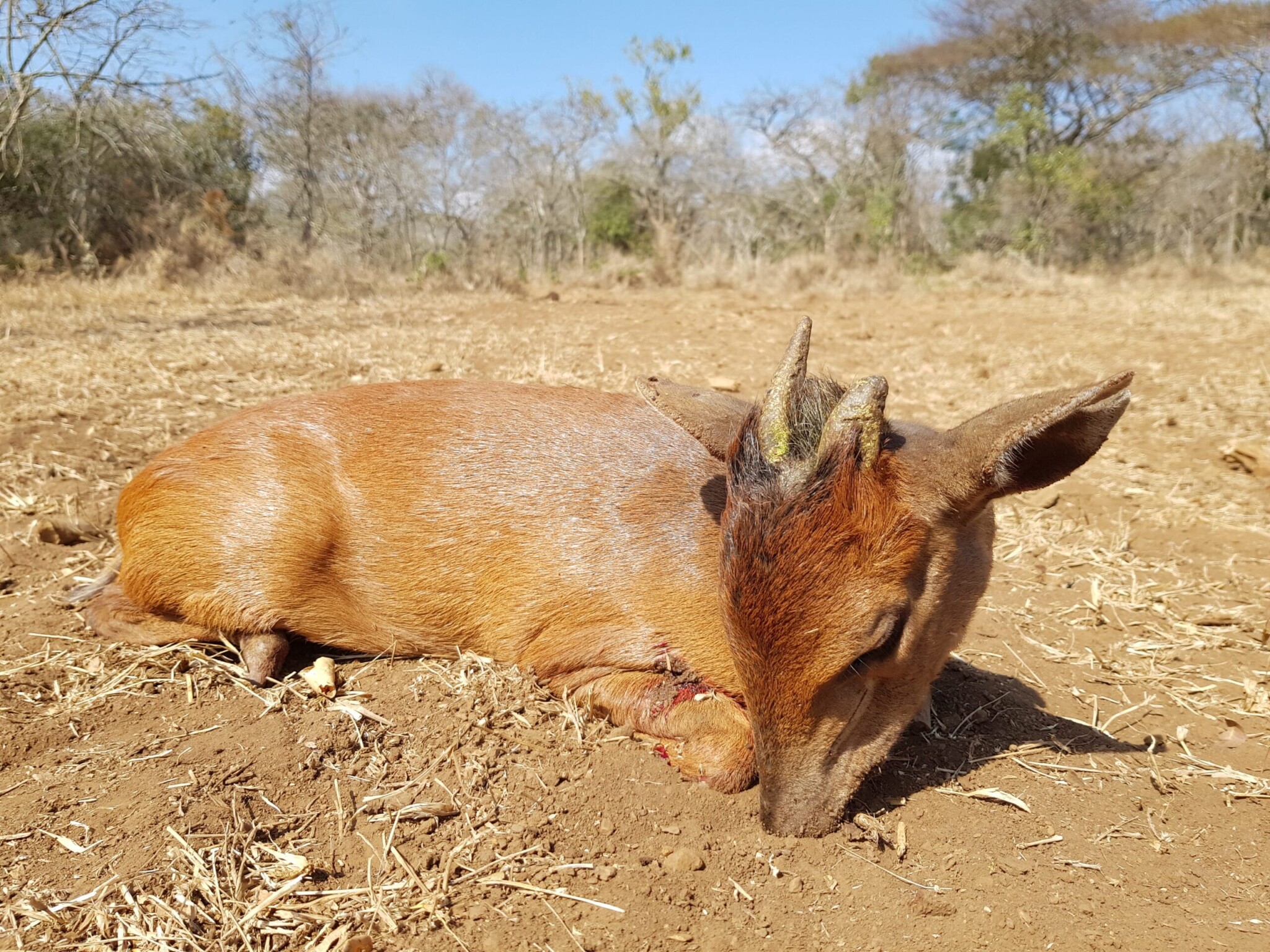 Hunting plains game in Kwa-Zulu Natal, South Africa
Location: Pongola, South Africa
Hunting time: 01. February - 31. October
Description:Hunting plains game in the Kwa-Zulu Natal region near Pongola in South Africa. Our team's mission is to give you the perfect safari and an extensive experience of nature. Our in-depth knowledge and love of nature and hunting, ensure that we offer a novel safari that is personalised ..more offer details
Other users also looked at the following:
Offer description
Hunting plains game in the Kwa-Zulu Natal region near Pongola in South Africa.
Our team's mission is to give you the perfect safari and an extensive experience of nature.
Our in-depth knowledge and love of nature and hunting, ensure that we offer a novel safari that is personalised as well as unique.
Our hunting area in Kwa-Zulu Natal consists of: 50% plains, 25% hills and 25% mountains. The structure of the vegetation is 80% bush, 10% forest and 10% floodplains. This area is situated on one of the biggest lakes in South Africa and is rather famous for its excellent tigerfishing. Hunting is conducted on a strict walk and stalk basis. While hunting in this area one regularly bumps into one of the Big 5 which makes for exciting stalks. This area is renowned for its huge trophy warthog boars of which amazing amounts can be seen on every outing. Feel free to scroll through our picture gallery for pictures of a few trophy boars.
This area is equally well known for its quality Nyala whom are endemic to this region and one of the most spectacular species found in South Africa.
For the best prices see offered species. Offered are Bushpig on bait, Impala, Kudu, Nyala, Blue Wildebeest, Warthog boars with a trophy length of over 10 inches ( 25,4 cm) and Red Duiker. The hunter can choose which and how many of the offered species he wishes to hunt, depending on availability and licenses. also available in this area are old trophy Buffalo bulls, Spotted Hyena, Zebra, Giraffe and Grey Duiker. Feel free to contact us if what you are looking for is not mentioned here, we will gladly help.
Our two hunting areas in Kwa-Zulu Natal, total to a size of 61.500 hectares and large amounts of all offered game species are free-roaming in the area. The accommodation is very luxurious and comfortable. The Zonyama Camp is not easily topped by comfort, luxury and style.
7 days of hunting and enjoying the African bush is considered a minimum and we urge our clients to plan as such. You are welcome to bring along a non-hunting partner and experience the safari together. The arrival and departure days are calculated as hunting days.
Our 2:1 daily rate is €300.
Airport pickup and travel to or on the hunting area is included in the daily rate. Travel between different hunting areas is calculated as hunting days and an additional €0.50/km is charged.

All Hunting licences and taxes are included in the price.
We can assist with the rifle import process or recommend a very reliable import service.
Rifle hire available in calibres: .222rem, .243win, 7x64 Brenneke, .308win, .375H&H and .458lott.
Recommended minimum tips for PH's is € 400,- skinners and kitchen staff € 100,- each, but the choice remains yours.

Territory information
Territory size: 61.500 Hectare
Type of territory: Free range, Partly fenced
Area: Hilly, Mountains, Grassland, Bush/Scrubland, River meadow, Water
Languages: English, German
Hunting methods: Stalking, Baiting, Bow hunt, Muzzle-loader, Management hunt, Other
Additional information: The two hunting areas are the huge Game Reserve (60, 000ha) on the Jozini Dam, and another Game Reserve (1,500 ha) near Pongola.
Trophy fee
Shooting fees total:
€
,-
Travel date
0 chosen hunting day(s)
0 additional travel day(s)
Sum: 0 days with 0 overnights
Your selected travel date
-
31.10.2024
(Departure day)
Daily rate and accommodation
Facilities: Internet, TV, Sauna, Spa, Bar, Air condition, Safety deposit box, Private bathroom, Laundry service, Full board
More information: This African Colonial style lodge caters for the discerning nature lover, and its unique position on a ridge overlooking the Pongola River commands panoramic views of the reserve. It is the ideal place in which to relax and enjoy regular sightings of Hippopotamus, Crocodile and the many species of general game that are found in the reserve. Accommodation is in 11 twin and 2 double en suite chalets all with air conditioning, ceiling fans, mini bar fridges, tea and coffee facilities and private verandas. The chalets combine comfort and simplicity with architectural use of stone, wood, reeds and thatch. The central area of the lodge includes the fully stocked bar, TV lounge with DSTV, covered open plan lounge and dining area, boma, swimming pool and curio shop.








Guidance:
1 : 1
Daily rate hunters:
Daily rate non hunting person(s):
Facilities: TV, Bar, Air condition, Safety deposit box, Private bathroom, Laundry service, Full board
More information: The luxurious Zonyama lodge is not so easily topped by comfort and style. The high standard bedrooms and the swimming pool with fully stocked bar area is just two of the many comforts offered in this lodge.
Guidance:
1 : 1
Daily rate hunters:
Daily rate non hunting person(s):
Daily rates total for HUNTING DAY(S): € ,-
Other costs:
instead of:

€

,-

Total price:
€
,-
Transfer:
Nearest Airport: O.R Tambo international airport Johannesburg
Distance to airport: 420 km
Pick up service: Yes Fees: -
Nearest railway station: -
Distance to railway station: -
Pick up service: - Fees: -
Trophy treatment:
Field preparation of trophies and transport to the taxidermist is possible and included in the price. We have three professional taxidermist partners that are able to work on your trophies. The period from receipt of deposit by the taxidermist to export will be approximately 6 - 8 months for dip and ship, but can be longer for taxidermy work.
Missed shot:
0 % of the estimated trophy price
Payment:
Deposit: 30 % of the total price
Final payment: On site
Wounding:
100 % of the estimated trophy price
Wounded animal is considered as harvested
Cancellation:
Deposits are non-refundable but can be transferred to an other hunting trip / hunter
Included in the offer:
Accommodation
Meals
Full board
Tee / Coffee
Hunting licence
Gun license
Guidance
Trophy measurement
Trophy treatment
All local taxes and service charges
Transportation in territory
Transportation from/to airport/railway station
NOT included in the offer:
Gun rental
Ammunition
Taxidermist
Trophy export
Insurance
Tips
Accommodation before and after hunt
Activities, other than hunting
Other users also looked at the following: