Report was send successfully
Ombakata Hunt & Safari 2:1
Zebra, Eland, Giraffe, Hartebeest, Impala, Kudu, Oryx, Pavian, Springbock, Steinboeckchen, Strauss, Streifengnu, Wasserbock, Weissschwanzgnu, Warzenschwein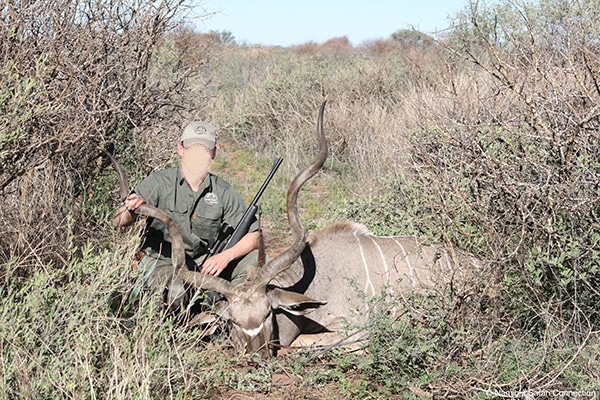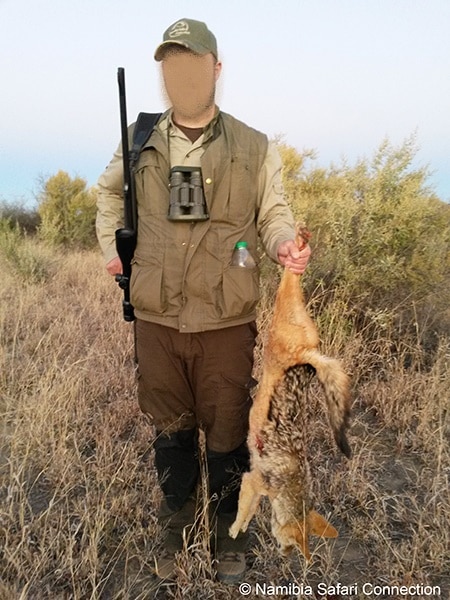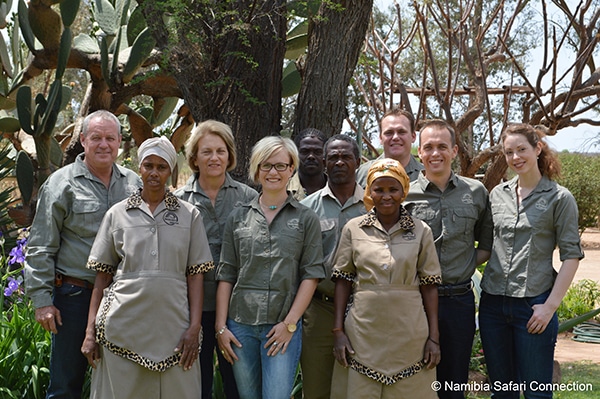 Ombakata Hunt & Safari 2:1
Location: Windhuk, Namibia
Hunting time: 01. February - 30. November
Description:We, the Matthaei family, are completely dedicated to your well-being and peace of mind and are determined to make your dream trip an unforgettable, adventurous experience. Experience the untouched nature of Namibia on our farm and be impressed by our variety of special animal and plant species. Take a ..more offer details
Other users also looked at the following:
Offer description
Ombakata Jagd & Safari 2: 1
Wir, die Matthaei-Familie, haben uns ganz Ihrem Wohlbefinden und Ihrer Ruhe verschrieben und sind entschlossen, Ihre Traumreise zu einem unvergesslichen, abenteuerlichen Erlebnis zu machen.
Erleben Sie die unberührte Natur Namibias auf unserem Bauernhof und lassen Sie sich von unserer Vielfalt an besonderen Tier- und Pflanzenarten beeindrucken. Machen Sie eine Pause vom Alltag und tauchen Sie ein in Ihren Traum von Afrika!
Sie jagen in unserer einzigartigen Natur auf ihre ursprüngliche Art und entdecken unsere Tiervielfalt in ihrem natürlichen, intakten Lebensraum.
Wir bieten eine Vielzahl an Jagderlebnissen - egal, ob Sie dem Wild durch den Busch folgen, ruhig über Wiesen jagen oder an einem unserer vielen Wasserlöcher sitzen: Ihre Jagd mit uns wird für Sie unvergesslich bleiben. Als besonderes Erlebnis bieten wir auch die Jagd mit Pfeil und Bogen auf Anfrage an.
Die Jagd in Namibia ist eine unvergleichliche Erfahrung und wird dich nie wieder gehen lassen!
Bitte beachten Sie, dass der Tagespreis für die geführte Tour 2: 1 beträgt (2 Jäger: 1 Guide).
We, the Matthaei family, are completely dedicated to your well-being and peace of mind and are determined to make your dream trip an unforgettable, adventurous experience.
Experience the untouched nature of Namibia on our farm and be impressed by our variety of special animal and plant species. Take a break from everyday life and immerse yourself in your dream of Africa!
They hunt in our unique nature in their original way and discover our animal diversity in their natural, intact habitat.
We offer a variety of hunting experiences - whether you follow game through the bush, hunt quietly across meadows or sit by one of our many waterholes, your hunt with us will be unforgettable. As a special experience, we also offer hunting with a bow and arrow on request.
Hunting in Namibia is an experience like no other and will never let you go!
Please note that the daily rate for the guided tour is 2:1 (2 hunters: 1 guide).
Territory information
Territory size: 23.000 Hectare
Languages: English, German
Hunting methods: Stalking
Additional information: Unsere Farm liegt etwa 100 Kilometer östlich vom Flughafen Hosea Kutako und 140 Kilometer von der Hauptstadt Windhoek entfernt. Das Farmgebiet umfasst über 23.000 Hektar und beherbergt viele namibische Tier- und Pflanzenarten. Die Landschaft besteht aus Kameldornsavanne, offenen Flächen und Busch. Dazwischen liegen offene Kalkpfannen, die in der Regenzeit, bei uns Dezember bis April, mit Wasser gefüllt sind. Außerdem verläuft das Rivier des Weißen Nossob auf unserer Farm. Zusätzlich zu dem Jagdrevier Grünental, hat Ombakata Jagd & Safari das Jagdrecht auf weiteren Jagdgebieten: Seeis Hegegebiet, ca. 100 000 ha Swakoptal Hegegebiet, ca. 50 000 ha Farm Rooiklip am Rande der Namib Wüste, ca. 9000 ha Farm Olifantswater in der Kalahari, ca. 7000 ha Farm Paradies nördlich von Grünental, ca. 8000 ha und weitere Konzessionsfarmen im Norden Namibias Jagdsaison: 1. Februar bis 30. November Jagdarten: Pirsch und Ansitz Jagdführung durch deutsch- und englischsprachige Berufsjäger Wir empfehlen zur Jagd die eigene, gewohnte und eingeschossene Waffe. Die Einfuhr der Waffe in Namibia ist einfach und problemlos. Sie bekommen von uns die nötigen Unterlagen im Vorfeld zugeschickt. Empfohlene Kaliber sind: 30.06, 8x57IS, 8x68S, 9,3x62, .300 WinMag, .375H&H oder ähnliche, möglichst nicht unter 7mm Rem Mag Empfohlener Geschosstyp ist ein Deformationsgeschoss wie RWS Evolution, Norma Oryx, Swift A-Frame, Nosler Partition, u.a. Ca. 60 Schuss Munition der mitgebrachten Waffe sollte in der Regel reichen. Es darf nur Munition eingeführt werden, die zur mitführten Waffe gehört. Die Waffe sollte mit einem tauglichen Zielfernrohr ausgestattet sein. Da wir bei Ombakata Jagd & Safari in der Regel unser Wild auf Pirschgängen erlegen, sollte der Jäger das Schießen vom Pirschstock beherrschen.
Trophy fee
Shooting fees total:
€
,-
Travel date
0 chosen hunting day(s)
0 additional travel day(s)
Sum: 0 days with 0 overnights
Your selected travel date
-
30.11.2024
(Departure day)
Daily rate and accommodation
Facilities: Internet, Private bathroom, Laundry service, Full board
More information: Neben unserem Farmhaus befinden sich auf Grünental vier komfortable Doppelzimmer sowie ein Einzelzimmer für unsere Gäste in einem separaten Gästehaus. Jedes Zimmer verfügt über ein eigenes Bad, welche mit Dusche und WC ausgestattet sind. Ein täglicher Wäsche- und Zimmerdienst, sowie eine persönliche Betreuung unserer Gäste ist für uns selbstverständlich. Auch ein Swimmingpool mit einer Sonnenterrasse und einer großzügigen Lapa steht unseren Gästen zur Verfügung.




Auch für Ihr leibliches Wohl wird auf unserer Farm ausreichend gesorgt. Wir bieten eine leckere und abwechslungsreiche deutsche Küche mit namibischen Wildspezialitäten, aber auch heimische Speisen, um ihren Gaumen zu verwöhnen. Dazu reichen wir gute südafrikanische Weine.
Guidance:
2 : 1
Daily rate hunters:
Daily rates total for HUNTING DAY(S): € ,-
Other costs:
instead of:

€

,-

Total price:
€
,-
Transfer:
Nearest Airport: Hosea Kutako
Distance to airport: 100 km
Pick up service: Yes Fees: -
Nearest railway station: -
Distance to railway station: -
Pick up service: - Fees: -
Trophy treatment:
Einfaches Abbalgen wird von uns besorgt und ist im Preis inkludiert.
Abbalg-Gebühr für Schultermontage € 20
Abbalg-Gebühr für Vollmontage € 30
Caliber recommendation:
30.06, 8x57IS, 8x68S, 9,3x62, .300 WinMag, .375H&H oder ähnliche, möglichst nicht unter 7mm Rem Mag
Missed shot:
0 % of the estimated trophy price
Payment:
Deposit: 50 % of the total price
Final payment:
Wounding:
100 % of the estimated trophy price
Angeschweißtes Wild, welches trotz gewissenhafter Nachsuche nicht gefunden wird, gilt als erlegt.
Cancellation:
Eine Stornierung der Reise hat schriftlich zu erfolgen. Erfolgt die Stornierung innerhalb 90 Tage vor dem Reiseantritt-Datum, besteht kein Anspruch auf Rückerstattung der Anzahlung. Eine Übertragung der gebuchten Reise auf eine Ersatzperson ist möglich.
Included in the offer:
Accommodation
Meals
Full board
Breakfast
Lunch
Dinner
Snacks
Tee / Coffee
Beverages
Hunting licence
Guidance
All local taxes and service charges
Transportation in territory
Transportation from/to airport/railway station
NOT included in the offer:
Alcoholic drinks
Gun rental
Ammunition
Trophy export
Tips
Activities, other than hunting
Other users also looked at the following: