Report was send successfully
Red Stag Hunt in the Southern Alps of New Zealand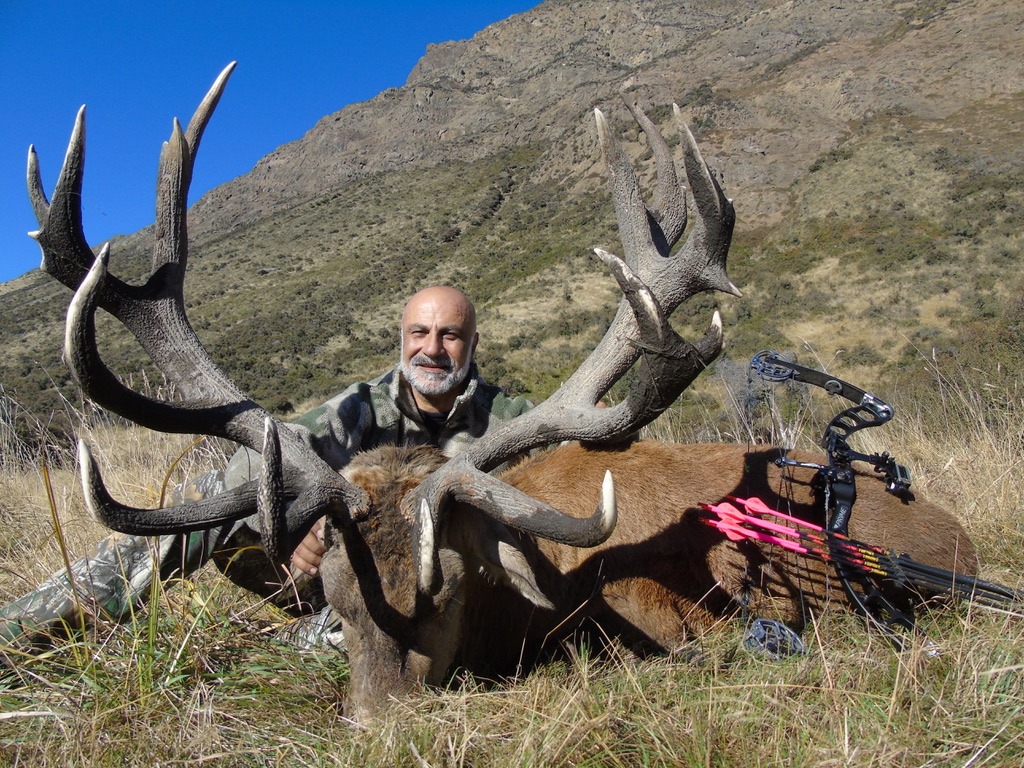 Red Stag Hunt in the Southern Alps of New Zealand
Location: Mount Peel, New Zealand
Hunting time: 01. March - 31. July
Description:A roar from the High Country Stags of Rangitata is enough to stir the blood of even the most hardened of hunter! It's large size and huge antlers give the Red Stag immense presence. There is nothing like stalking stags during the rut or "roar" which takes place in ..more offer details
Other users also looked at the following:
Offer description
A roar from the High Country Stags of Rangitata is enough to stir the blood of even the most hardened of hunter! It's large size and huge antlers give the Red Stag immense presence. There is nothing like stalking stags during the rut or "roar" which takes place in March and April. It is exciting hunting at its best! Red deer are native to Europe and were first introduced to New Zealand in 1851. With no predators and a temperate climate, the conditions allow New Zealand Red Stags to grow large bodies and massive antlers.
Our Red Stag Package Hunt includes one Trophy Red Stag to 380 SCI-Points.
Also included: Luxury lodge accommodation for 4 nights and 1 x 1 professional hunting guide. We always hunt the first afternoon so a 4 night booking will be 3 ½ days hunting.
You have the possibility to upgrade your Red Stag on request.
Red Stag - price list:
360 – 380 SCI .................$8,000
381 – 400 SCI ................$10,000
401 – 450 SCI ................$15,000
450 – 500 SCI ................$20,000
500 – 550 SCI ................$25,000
With a stunning backdrop of the South Island High Country and a view of the Southern Alps, your Rangitata experience will be completed with our luxury accommodation. Our secluded lodges will immerse you into the landscape and the grandeur of the breath taking scenery before you. Relax in total comfort at the end of the day with a drink by the fire and a delicious meal prepared by our in house chef, before enjoying a relaxing night's sleep.
All trophies remain the property of Kiwi Safaris until paid for in full.
Territory information
Territory size: 10.000 Acres
Type of territory: Fenced
Area: High mountains
Languages: English
Hunting methods: Stalking
The package deal includes
SCI-Points
Up to 380 Points
Included in the price: 1 animal(s)
Travel date
0 chosen hunting day(s)
0 additional travel day(s)
Sum: 0 days with 0 overnights
Your selected travel date
-
31.07.2024
(Departure day)
Daily rate and accommodation
Facilities: Internet, TV, Restaurant, Bar, Air condition, Private bathroom, Full board
More information:
Guidance:
1 : 1
This offer applies for: 1 hunter(s)
Other costs:
instead of:

€*

,-

Total price:
€*
,-
* This price was calculated with an online exchange rate. The billing will be in $.
Transfer:
Nearest Airport: Christchurch Airport
Distance to airport: 90 Meilen
Pick up service: Yes Fees: -
Nearest railway station: -
Distance to railway station: -
Pick up service: - Fees: -
Trophy treatment:
Field Preparation of trophies and transportation of trophies to the expediter in Christchurch is included.
Missed shot:
0 % of the estimated trophy price
Payment:
Deposit: 25 % of the total price
Final payment: On site
Wounding:
100 % of the estimated trophy price
A wounded animal is counted
Cancellation:
Deposits are non-refundable but can be transferred to an other hunting trip / hunter
Included in the offer:
Accommodation
Meals
Breakfast
Lunch
Dinner
Beverages
Hunting licence
Guidance
Trophy measurement
Transportation in territory
Transportation from/to airport/railway station
NOT included in the offer:
Gun license
Gun rental
Ammunition
Trophy export
Visa invitation documents
Tips
Accommodation before and after hunt
Activities, other than hunting
Fishing rights: possible on request
Other users also looked at the following: