Report was send successfully
Toekoms individual hunting package 2:1
Streifengnu, Pavian, Kronenducker, Eland, Kudu, Schakal, Oryx, Hartebeest, Steinboeckchen, Warzenschwein, Zebra, Weissschwanzgnu, Impala, Springbock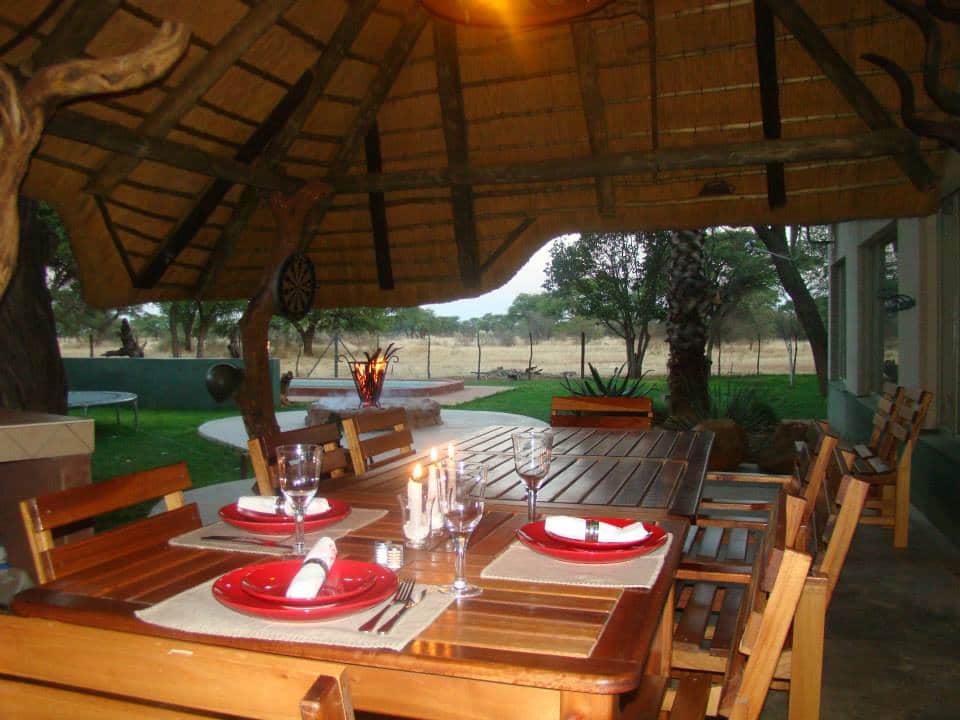 Toekoms individual hunting package 2:1
Location: Windhuk, Namibia
Hunting time: 01. February - 30. November
Description:Toekoms Hunting Safaris is one of the premier, specialized bow hunting outfitters in Namibia with a variety of high-quality blind styles strategically placed to give bow hunters the very best hunting possible. Our terrain is perfectly suited for the extreme bow hunter who wants the opportunity to walk-and-stalk ..more offer details
Other users also looked at the following:
Offer description
Toekoms Hunting Safaris is one of the premier, specialized bow hunting outfitters in Namibia with a variety of high-quality blind styles strategically placed to give bow hunters the very best hunting possible. Our terrain is perfectly suited for the extreme bow hunter who wants the opportunity to walk-and-stalk for his once-in-a-lifetime trophy.
Although our private hunting area is very large, we insist on keeping our business small to ensure that personal attention and service are of the highest standards. Toekoms is family owned and operated and offers the adventurous bow hunter an unforgettable hunting adventure in the heart of the Namibian bushveld. We invite you to come and experience our warm hospitality and experience a true Namibian bow hunting adventure you'll never forget.
Our rifle hunting season runs from February 1 to November 30. Whether you prefer hunting by stalking or from 4x4 vehicles, the savanna grasslands dotted with beautiful camelthorn trees make for a spectacular hunting experience.
Rifle Caliber Recommendations: Clients can expect typical shooting distances between 50 and 150m. We recommend the following calibers for hunting large and small game: .270, .30-06, .308, .300, .338
Your booked Package includes: booked animals, transport from airport, meals, accommodation, laundry services soft drinks, beer, pre-cleaning of trophies transport to taxidermy, permit fees Excludes: Airfares, travel insurance, international phone calls. Alcoholic beverages, gratuities to staff.
Territory information
Territory size: 10.000 Acres
Hunting methods: Stalking, Bow hunt
Additional information: The savanna vegetation of the Toekoms safari area provides a great opportunity for a successful and memorable hunt at affordable prices. Toekoms Hunting Safaris is owned and operated by Jannie and Marilize Delport. Jannie is not only a capable and qualified professional hunter, he is also an avid bow hunter himself. His intimate familiarity with the sprawling 10,000 hectare ranch - owned by his family for over 50 years - will ensure the visiting bow hunter an incredible trophy hunting experience.
Trophy fee
Shooting fees total:
€
,-
Travel date
0 chosen hunting day(s)
0 additional travel day(s)
Sum: 0 days with 0 overnights
Your selected travel date
-
30.11.2023
(Departure day)
Daily rate and accommodation
Facilities:
More information: The warm hospitality of Jannie and Marilize, along with their three daughters Mia, Mienke and Lienka will make your African safari unforgettable. Lodging consists of three comfortably furnished bedrooms and a swimming pool for cooling off when the temperatures rise. Wi-fi / internet facilities are available at the lodge. Meals are served under the traditionally thatched "lapa" and prepared on an open fire. The hearty Namibian farm cuisine is of the highest quality with the majority of meals being prepared from fresh game meats.
Guidance:
2 : 1
Daily rate hunters:
Daily rates total for HUNTING DAY(S): € ,-
Other costs:
instead of:

€

,-

Total price:
€
,-
Transfer:
Nearest Airport: Hosea Kutako
Distance to airport: 170 km
Pick up service: Yes Fees: -
Nearest railway station: -
Distance to railway station: -
Pick up service: - Fees: -
Caliber recommendation:
270 Win, 300 Win Mag, 308 Win. 30.06
Missed shot:
0 % of the estimated trophy price
Payment:
Deposit: 50 % of the total price
Final payment: On site
Wounding:
100 % of the estimated trophy price
Wounded game is considered as harvested, when it can't be found after a professional, conscientious and thorough search.
Cancellation:
Deposits are non-refundable
Included in the offer:
Accommodation
Full board
Snacks
Tee / Coffee
Beverages
Hunting licence
Guidance
Trophy treatment: Field trophy preperation
Transportation in territory
Transportation from/to airport/railway station
NOT included in the offer:
Gun rental
Ammunition
Taxidermist
Trophy export
Insurance
Tips
Other users also looked at the following: